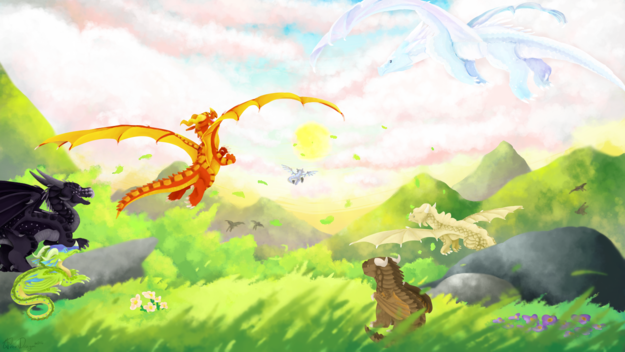 Wings of Fire is a book series by Tui T. Sutherland. Five young dragonets are destined to end the Great War caused by warring SandWing queens. But there is more than one way to fulfill a prophecy, and the dragonets escape to save the world, their own way.
---
(image credit to Lightningstrike from RapidClan)
NOTE: Please refrain from creating any new tribes!!! We currently have oodles of tribes but not enough users! We will not accept any new tribes, so please don't make pages for them. If you have ideas, however, please leave them on the
Tribe Ideas
thread, and maybe when we have a lot more users we'll add another tribe. Thanks!
What is your favorite part of the Fanon?
What's your favorite DOD (Dragonet of Destiny)?
Who is your favorite Jade Winglet member?
To write a new article, just enter the title in the box below.
SandWings are long-necked, muscular, and anatomically and biologically built to survive in the desert. They have pale yellow, tan, yellowish brown, or off-white scales that blend in with the desert sand, bumpy spines from their head to the tip of their tails, forked black tongues, glittering black eyes, and tails armed at the end with a venomous, scorpion-like barb. They can breathe fire and emit moderate heat from their scales.
(
Read more...
)
Visit the
Tribes of the Month
page to see the tribe for each month, and
this thread
if you would like to give feedback or if you have an idea to improve them.
Wings of Fire belongs exclusively to Tui Sutherland, the author. We are simply using her world as a backdrop and an inspiration for characters and stories of our own.
Users worked hard making their characters and fanfiction, so please do not use their work without their permission.
If you create a fanfiction or an OC (own character), please put on the page at the very top that that character belongs to you.
Ad blocker interference detected!
Wikia is a free-to-use site that makes money from advertising. We have a modified experience for viewers using ad blockers

Wikia is not accessible if you've made further modifications. Remove the custom ad blocker rule(s) and the page will load as expected.