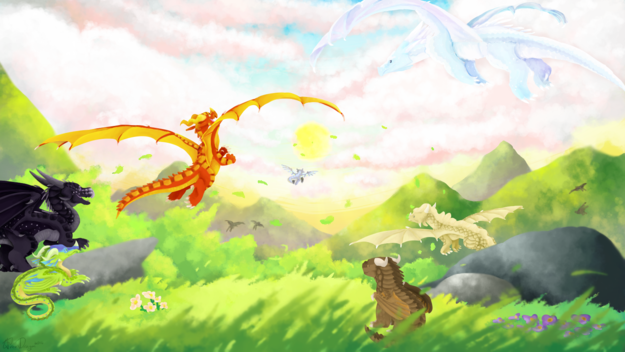 Wings of Fire is a book series by Tui T. Sutherland. Five young dragonets are destined to end the Great War caused by warring SandWing queens. But there is more than one way to fulfill a prophecy, and the dragonets escape to save the world, their own way.
---
(image credit to Lightningstrike from RapidClan)
NOTE: Please refrain from creating any new tribes!!! We currently have oodles of tribes but not enough users! We will not accept any new tribes, so please don't make pages for them. If you have ideas, however, please leave them on the
Tribe Ideas
thread, and maybe when we have a lot more users we'll add another tribe. Thanks!
What is your favorite part of the Fanon?
To write a new article, just enter the title in the box below.
Only September 27 2016 00:00:00 until Runaway comes out!!!

Lithe, thin, and much smaller than a normal dragon, LeafWings are at confused with the more well-known Rainwings due to their somewhat similar body shape. However, this is the only thing that a dragon could possibly confuse. They have long, spindly horns that gather at the back of their neck, going down to the nape. These horns resemble sticks more than horns, crooked and twisted, branching off sometimes. Their scales are softer, not really good for protection but allows a greater range of movement.
Although not the most evolutionary advanced dragons in Pyrrhia, LeafWings possess a fair amount of natural defenses. They have a spine on the end of their tail that is incredibly sharp, but rather small claws, hooked to hold onto branches with ease and yet not entirely useful in a fight. Their greatest weapon, however, happens to be their spit, which over time congeals and becomes incredibly sticky. That means that while it is useful for traps, it cannot be used in a quick circumstance, such as a battle.
(
Read more...
)
Visit the
Tribes of the Month
page to see the tribe for each month, and
this thread
if you would like to give feedback or if you have an idea to improve them.
Wings of Fire belongs exclusively to Tui Sutherland, the author. We are simply using her world as a backdrop and an inspiration for characters and stories of our own.
Users worked hard making their characters and fanfiction, so please do not use their work without their permission.
If you create a fanfiction or an OC (own character), please put on the page at the very top that that character belongs to you.