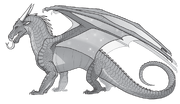 Warheart is a male NightWing and one of Lulerb03's OCs.
Appearance
Warheart is a large NightWing. He has a missing eye that was ripped out in combat. He is a greyish NightWing and has the normal silver star pattern.
Personality
Warheart is very energetic and he is a swift flyer. He is smart and has a high range of knowledge. He is kind and rarely strict. He is a fun loving dragon and is very loyal.
Life
Warheart was raised as an orphan and he had a little sister named Peaceseeker.