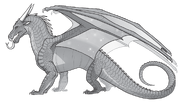 THIS IS THE RIGHTFUL PROPERTY OF CLAN QUARX!
-Quarx
Personality
Dark and mysterious, Voodoo is very cunning, and it is unknown whether he is good, evil, both, or neither. The only thing that is known about him is that he likes to keep to himself most of the time.
Description
Rarely does any dragon see him, but the few who did said he was about one and half times bigger than the average NightWing, had dark-purple eyes, and dark-purple scales, that were nearly black. Other than that, he was pretty normal-looking. Those few who saw him thinks he's at least sixty-seven-years-old. 
Biography
All that is known about him is that his parents died in a freak accident. No one knows exactly what caused their deaths, they only know that it was just a freak accident.
A Note from Quarx
I love feedback of how I am doing. The reason why is because I love to be able to improve upon my skills of being a  writer. So, if you see anything that I can improve upon, please tell me below in the comment section. Thank you.
Ad blocker interference detected!
Wikia is a free-to-use site that makes money from advertising. We have a modified experience for viewers using ad blockers

Wikia is not accessible if you've made further modifications. Remove the custom ad blocker rule(s) and the page will load as expected.