WARNING - STORM IS MY OC. IF YOU USE HER WITHOUT PERMISSION, I WILL HAVE THE AUTHORITIES BAN YOU!!!
Storm helps the dragons Sidewinder, Swamp, Diamond, Chilly, Myeline, Cherry, and Anemone save a few dragons with an IceWing named Crystal. Storm is based off of a friend, and she is totally not my creation except for the lightning claws. Thanks to Luckybird for letting me use the name Storm anyway!
Storm is Peril's daughter, and Peril, who is the daughter of the murdered Kestrel, helps raise Storm's daughter, Cherry. Cherry also has a daughter named Skyway. Pretty confusing, huh? Storm's mate is named Lightning.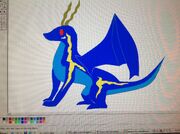 History
Storm was cursed at birth by Starlight, who meant to kill her with a bolt of lightning for the reason that she had too much fire, but it only changed the firepower to electricity. Peril attempted to kill Starlight but only managed to prevent Starlight from flying again with a nasty slash up her wing. Storm rescued Peril from Life or Death, since two fireproof MudWings and a SandWing with a firegem, a gemstone that makes the SandWing wearer fireproof, had captured her.  Storm is also in the fanfic Swiftlight, which takes place in the past. Storm is based off of a friend of Hawk's in real life.  As I will say, my friend's name is CLASSIFIED!!!