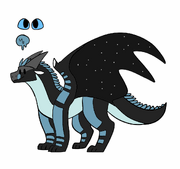 Stargazer is-- well-- you know who's OC.
Stargazer is a very shiny NightWing, so she calls herself a StarWing. She's very brave and adventurous, and isn't afraid to argue-- or battle (not too much does that happen!).
She's also friends with Misty, and reads scrolls with Craft, a StormWing. Stargazer is always busy, reading scrolls and fattening up cows to eat.... The StarWing is very nice. But, if somebody bothers her too much about her cousins, she gets very upset and hot red.
Sometimes she hangs out with Vortex, her best friend. Well, besides Starshine. She loves to go on adventures with them. If she sees danger, she will stand up and fight for peace. Also, she has a very very very best friend named Star.
Appearance
Stargazer is very shiny and bright from her looks. She has a pinch of purple on her scales. Her eyes are brown and the outer of her eyes are pearl white. She only has one scar on her foot because of fighting a Scavenger's box, but with a spear. It slid out of reach and stabbed her. It left a almost unnoticable scar.
Relationships
Star- she trusts Star with all her life and loves to joke around with her, unless the situation is serious.
Blackice- she is very helpful to Blackice, but isn't that great of friends with him.
Other Info
She is also a character in Across the Stars.
Ad blocker interference detected!
Wikia is a free-to-use site that makes money from advertising. We have a modified experience for viewers using ad blockers

Wikia is not accessible if you've made further modifications. Remove the custom ad blocker rule(s) and the page will load as expected.