THIS IS THUNDER_THE_STAICWING'S AND SNAKESKINTHESANDWING'S. Don't use without permission, and don't kill her EVER!
Snakeskin is a SandWing on Blaze's side. She is one of the few without a scar.( lucky her) She is based on the grumpy side of Thunder. (or SnakeskintheSandWing) I'm not sure what happened to her mother but, her father is on burn's side with Snakeskin little sister Tanagrine.
Friends and Enemies
Her friends are Morning,( she's also like Tanagrine)Morning is a great inventor. She made something that helped Snakeskin go father into the IceWing kingdom then anyone has (other than the IceWings)Coal is a grump. But a great fighter he has a claw marks on his back legs. Then there is Ray, Snakeskin's best friend. her only IceWing friend is Yeti the IceWing who usually makes for reports to Blaze.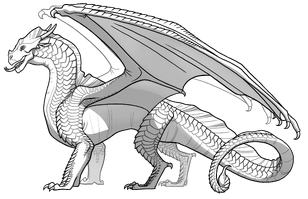 Snakeskin's enemies are:the SkyWings, the Mudwings,the SeaWings,Burn, Blister and the NightWing
APPEARANCES
None at the moment she will be a character in Thunder_the_StaicWing's story
Ad blocker interference detected!
Wikia is a free-to-use site that makes money from advertising. We have a modified experience for viewers using ad blockers

Wikia is not accessible if you've made further modifications. Remove the custom ad blocker rule(s) and the page will load as expected.