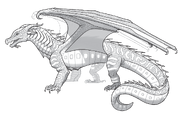 NOTE: SAPPHIRE IS MY ORIGINAL CHARACTER. NOT TO BE CONFUSED WITH THE CANON CHARACTER SAPPHIRE. IF I CATCH ANYONE PLAGIARIZING ANY OF MY ORIGINAL WORK ON THIS ARTICLE, YOU WILL BE BANNED.
Sapphire is a male SeaWing and he is in the fanfiction Riches to Rags. 
Description
Sapphire is a handsome midnight blue SeaWing with sapphire blue underscales and sapphire blue eyes, hence his name. His glow-in-the-dark scales are a cornflower blue. 
Personality
Sapphire is shown to not like taking sides in things and he is a bit antisocial and awkward. Many think of him as very wise, even though he's pretty young. Sapphire is a very serious dragon who will protect his friends at all costs. Surprisingly, he loses a temper a lot even though he tries not to. He isn't a very trusting dragon and will hold a grudge. He is, overall somewhat kind-hearted.
Trivia
Sapphire is 8 years old (16 in dragon years).
Sapphire's sister is Emeralsada. 
Ad blocker interference detected!
Wikia is a free-to-use site that makes money from advertising. We have a modified experience for viewers using ad blockers

Wikia is not accessible if you've made further modifications. Remove the custom ad blocker rule(s) and the page will load as expected.