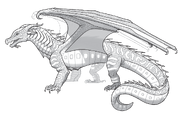 DISCLAIMER: THIS IS MY (WONDER RAINWING'S) CHARACTER AND MY CHARACTER ONLY. USE WITHOUT EXPLICIT PERMISSION FROM ME MAY RESULT IN A BAN.
Sailfish is a SeaWing and an OC of Wonder RainWing.
Appearance
Sailfish is a small, slightly scrawny dragon with silver-blue scales. He has large, wide-set, translucent green eyes and slightly oversized wings with dark blue membranes. The fin down his back is the same shade of blue, as are his claws and horns. His glowing scales are a pale bluish-white, and he has an X-shaped scar on his left shoulder from a fight he got into as a young dragonet.
Personality
Sailfish is rather paranoid and quiet, preferring to talk things out instead of fight. In addition, he tends to be a scaredy-cat, and sometimes falls into outright cowardice. He enjoys his guarding apprenticeship, as he doesn't have to fight anyone unless they threaten his queen. He is a bit of a dreamer and loves coming up with ideas for inventions and slightly ridiculous conspiracy theories. As a hatchling, he was afraid of the dark, although he outgrew this fear after learning how to use his night vision. He also has claustrophobia, or the fear of small spaces. 
He also finds fun in building things, specifically contraptions and machines. Sailfish is quite smart, and his strong suit is planning.
Abilities
Being small, he can get into spaces most other dragons can't. However, due to his moderate claustrophobia he rarely ventures there. He is very good with his claws, and enjoys creating mechanical things.
Like his namesake, Sailfish is very fast and agile, and clinched an apprenticeship as a guard on these grounds, as well as his intelligence. He is fairly good at fighting with a halberd and poleaxe, but rarely does, as he dislikes violence.