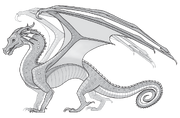 THIS IS MY OC, BUT ANYONE CAN USE HER WITHOUT MY PERMISSION!
From the creator,
Quarx
Dragonality
Queen Selva (Sehl-bah), kind and considerate, yet cunning and manipulative, the queen of the Northern RainWings has had a long and trying past that enabled her to understand and recognize the hardships of her people very well. Her scales are almost always a polished silver
Biography
SPOILER WARNING: PLOT AND/OR ENDING DETAILS ARE WITHIN THE FOLLOWING SECTIONS!
Queen Selva was born into a middle-class family, 21 years before the SandWing Civil-World War, she had a normal up-bringing, until a fire destroyed her home, family, and life. At the age of only three-years-old, she challenged the other queens for the throne, believing that they were solely responsible for the fire. She then gathered together a team of friends, and, through hard training, lots of tears, and pure, sheer luck, they surprisingly won.
She now lives in the Northern RainWing palace, with her mate, Pino, in which they have three children, Fresco (Freys-coh), Dizzling, and Manzana.
Fanfictions
A MechWarrior's Tale: Azorn III
Ad blocker interference detected!
Wikia is a free-to-use site that makes money from advertising. We have a modified experience for viewers using ad blockers

Wikia is not accessible if you've made further modifications. Remove the custom ad blocker rule(s) and the page will load as expected.