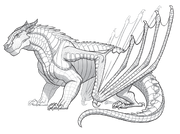 WARNING: THIS IS QUARX'S OC! ANY ATTEMPT TO USE POLVO, IN ANY WAY, WILL RESULT IN ME TELLING AN ADMINISTRATOR ABOUT THE ABUSE AND YOU 
COULD 
BE POSSIBLY BANNED (if I'm in a not-so-happy mood)!
-Quarx
Description
A large, handsome, male Bigwings, about 25-years-old, Polvo looks like any other MudWing, except that he was hatched from a blood-red egg, so he is immune to fire.
Dragonality
Polvo is, since he is a bigwing, very protective of his siblings, Lirio, Lodo, Barro, Pantano, and Salpica, and will do anything to protect them.
Biography
Coming soon!
Fanfictions
None as of yet...
More Information
Polvo

| | |
| --- | --- |
| Occupation | Guard of the Royal MudWing Hatchery |
| Title | Chief Guard of the MudWing Royal Hatchery |
| Enemies | Thieves, criminals, dragons like that. |
| Allies | The Queen of the MudWings. |
Note
Anybody can draw a picture of Polvo. I have no disregards for that.
Ad blocker interference detected!
Wikia is a free-to-use site that makes money from advertising. We have a modified experience for viewers using ad blockers

Wikia is not accessible if you've made further modifications. Remove the custom ad blocker rule(s) and the page will load as expected.