Pippzy is a 9 year old female RainWing. Her scales do not function properly.
Belongs to Aquarica.
Personality 
Pippzy is easily aggrivated, but very smart. She spends most of her time reading her favorite scrolls or studying. Her father's death, that occured nearly a year ago, has caused her to go into a state of depression.
Appearance 
Pippzy has emerald green eyes, dark blue scales, and an aqua underbelly. Because of her depressed stage, her scales can only stay at a shade of blue. The only thing that isn't affected by her depression is her tail, which only emits moody colors.
History
Pippzy's mother hates her because she was an accident. With that being said, Pippzy's father was the only dragon she loved as a child. And Pippzy's father loved her the same. He was an author, and he always read one of his stories to Pippzy before she went to sleep, which is why she enjoys reading. She thinks of it to be the only escape from her depression.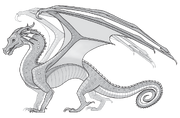 Ad blocker interference detected!
Wikia is a free-to-use site that makes money from advertising. We have a modified experience for viewers using ad blockers

Wikia is not accessible if you've made further modifications. Remove the custom ad blocker rule(s) and the page will load as expected.