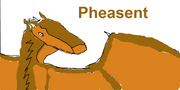 Well, here's Pheaseants page. I had to make it before anyone took his name.
Abilities, Description, and Traits
Pheaseant was hatched out of a blood red egg and I hope I don't have to go into detail about this. He is dark brown and burly, with gold secondary scales. His behavior is a combo of Clay's and Starflight's behaviors and he doesn't have an extreme love of food (Just go to theme songs and look at Clays if you have no idea what I am talking about.). 
Past
Bla, bla, bla look at the other pages for his past. During the planning phase, he wasn't included due to his slow thinking and learning but will remember things easily. His job was to stand guard by the sleeping cave to keep the guardians out by pretending to sleep outside the door with some of his favorite scrolls nestled in his talons.
Appearances
Same as Loki and Wind Rider. Please check their pages for complete details.
Quotes
"ZZZZZZZZZ" -whenever the guardians say something boring or he knows that they all know.
"letmeseethecomputerihavetolookupsomethingrightnow"
"I'm not hungry."
Trivia
His name is based off of the Character in the canon series.
His original name was Swamp, but someone already is using that name.
He was originally the smallest, but that sounded unnatural.
In the early stages of character development, he was originally a SkyWing named 

Vermillion (I get my names off of the canon series.Whatever).

His theme song is Good Time by Carly Rae J. And Owl City.