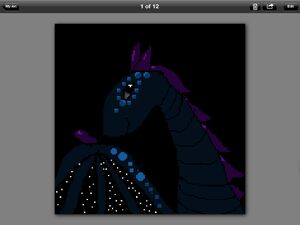 ATTENTION: WINDRIDER2501 PROPERTY. IF YOU USE OR KILL THIS DRAGON WITHOUT MY KNOWLEDGE OR PERMISSION, YOU WILL BE BANNED!
Past
Morrowflight was adopted into a family of SeaWings. His parents left his egg on the coast of main Pyrrhia with a letter explaining why they couldn't keep him. He has 15 adopted siblings, 8 girls and 7 boys. One of the boy siblings was named Hurricane and hatched 5 hours before him. Hurricane considered him his adoptive twin, and was always the favorite of Morrowflight. Morrowflight was sent to the SeaWing Academy for Gifted Dragonets, like his 15 adoptive siblings. He had amazing abilities in all of the classes that the academy had to offer. Later on, as it was shown in the prologue of Dragons and Drive thrus that he was being hunted down by Blister, who was also hunting down Hurricane, a RainWing named Jewel, and an IceWing named Tundra. Eventually, she got so mad that she couldn't find them she blew up Pyrrhia and sent all the dragons to our world. Now the dragonets have to find a way to either fix the problem or adapt to our world (and learn how to deal with Obama).
Abilities
As he and his many siblings were raised in a sea cave, they had to be in water most of the time. He eventually learned how to swim and with some help from Or Des Mers (which means Gold of the Seas in French.), one of his female sibs, got some gills and webs along with the glowing stripes.Au, as that's her nickname,was the only animus in the family. They all taught him aquatic (with many excellent insults thrown in, by all of his male sibs) which was always exciting because they where always correcting one another which normally led to fights.He can read minds at open leisure and predict things without error.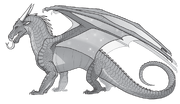 Relationships
His enormous family, Atlantic (mom),Current(dad).
Brothers(Eldest to youngest): Sea Cave, Wave, Swim, Eel, Fish, Ocean, Hurricane
Sisters (Also Eldest to youngest): Or Des Mers, Pacific, Tide, Surf, Sea Breeze, Beach, Pacifica, Sapphire
Friends: Jewel, Tundra, and Draco
Au de la Seas name was changed to Or Des Mers because of google translate.I looked it up.Thank god for google translate.
Ad blocker interference detected!
Wikia is a free-to-use site that makes money from advertising. We have a modified experience for viewers using ad blockers

Wikia is not accessible if you've made further modifications. Remove the custom ad blocker rule(s) and the page will load as expected.