Wings of Fire Dragonet Sale
Edit
Hey everyone! This is a "Buy the Egg" Sale where I state what tribe the mother of the egg was from, and you get to buy the egg and state what tribe the father is. It can be a hybrid. Then I will draw the dragonet on approximately Sunday, May 21, on 'hatching day'. The color of the dragonet will be the colors used on the dragon egg. The gender will be random. 
I am in the process of drawing the eggs. If ou want to buy the egg, state in the comments below and what tribe of father you want. Once I get payment from you I will leave your names below. First come first serve. Have fun with this!
(Idea from xdragonrebornx)
What I'm Interested in Talking About
Edit
Art Trades
Art Requests
Possible OC adoptables
Dragon OC ideas (I'm pretty good at making hybrids!)
Whatever else you want! 
OC Adoptables
Edit
My avaliable adoptables right now, are...
Art Requests/Trades
Edit
Hello y'all! I happen to be an exeptional drawer of dragons! If any of you want an art request/trade, I am more than happy to give you one! I accept ALL art trades and most art requests. Here is an example: my digital ref of my main and favorite OC, Echo the IceWing-SkyWing.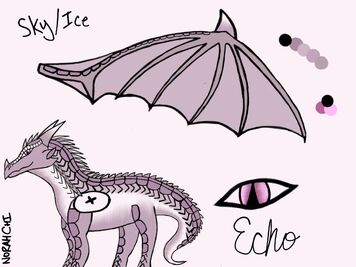 Give Kudos to this message
You've given this message Kudos!
See who gave Kudos to this message
Ad blocker interference detected!
Wikia is a free-to-use site that makes money from advertising. We have a modified experience for viewers using ad blockers

Wikia is not accessible if you've made further modifications. Remove the custom ad blocker rule(s) and the page will load as expected.