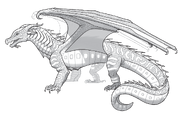 NOTE: MAKO IS MY ORIGINAL CHARACTER. IF I CATCH ANYONE PLAGIARIZING ANY OF MY ORIGINAL WORK ON THIS ARTICLE, YOU WILL BE BANNED.
Mako is a male SeaWing and the father to
Dolphin
in the fanfiction
Riches to Rags
. His wife is Angelfish. 
Description
Mako is a bright cobalt blue SeaWing with light silvery-blue underscales. There seem to be ripple-like patterns on his scales and he has ice blue eyes. Mako has ice blue glow-in the-dark-scales. 
Personality
Mako is calm and level-headed, with a cheerful friendliness that often overrides his occasional shyness. He is currently a bit depressed because his wife is dead and he dearly misses her. Mako gets along well with dragonets and he has a sweet heart. He thinks that fighting is wrong and has a passion for reading and art. Mako laughs a lot and is very laid-back. He is a bit gullible and worries a bit too much. 
Trivia
He is named after the Mako shark. 
He is 20 years old (40 in dragon years).
Ad blocker interference detected!
Wikia is a free-to-use site that makes money from advertising. We have a modified experience for viewers using ad blockers

Wikia is not accessible if you've made further modifications. Remove the custom ad blocker rule(s) and the page will load as expected.