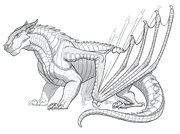 NOTE: LARCH IS MY ORIGINAL CHARACTER. IF I CATCH ANYONE PLAGIARIZING ANY OF MY ORIGINAL WORK ON THIS ARTICLE, YOU WILL BE BANNED.
ANOTHER NOTE: THIS PAGE WILL BE REVAMPED SOON
Larch is a female MudWing artist and one of .oOEclipseOo.'s OCs. 
Description
Larch may not be the kind of dragoness who stands out among other dragons because of her beauty, but that doesn't mean that she is unattractive. Her beauty is just more subtle, and her beauty is often found in the little details of her appearance. No one usually bothers to look to closely though, because she blends into the crowd so easily.
Her frame is like that of most MudWings. It is relatively large and muscular, though she is ever so slightly smaler than most MudWings. It is evident that this dragoness is very powerful, but she isn't muscular to the point of being incredibly bulky. Though she isn't bulky, her muscle isn't very lean either. It's somewhere in between. She has long limbs and a long tail. She moves surprisingly gracefully for a muscular MudWing like her.
Larch's main scales are a light brown, not a dusty shade of brown, but a shade of brown that could be mistaken for a tan at first. Her underscales are the color of larch needles during the autumn; they're a stunning golden color. Her horns, spines, and claws are all a darker shade of brown the color of creamy milk chocolate. Her eyes are an unusual sky blue that stand out against her brown scales.
Personality
Larch was always a bit of a dreamer, coming up with big ideas that some would call impossible. She tends to have her head in the clouds, but can be determined and ambitious if she chooses to be. She will do nearly anything to reach important goals and rarely ever backs down. This comes with persistence and stubbornness. Being an artist, she tends to be very creative, but sadly, most MudWings don't value art or see it as much of importance expect for nobles who want to decorate their homes. She doesn't care, though. She'll just keep on chasing after her dreams. She is sometimes a little too proud, but not necessarily arrogant. Larch is usually polite. She holds grudges easily and is quick to judge a dragon. Despite this, Larch is usually level-headed and it takes much to get her angry.
Abilities
Larch has all of the average MudWing abilities, but she doesn't have much experience wth fighting. She is also a great artist, but doesn't work well with paints.
Trivia
Most of the artwork she does involves sketching and/or sculpting. 
She is 12 in years old (24 in human years). 
She has a minor fear of thunderstorms.