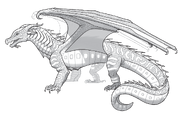 NOTE: KELP IS MY ORIGINAL CHARACTER. IF I CATCH ANYONE PLAGIARIZING ANY OF MY ORIGINAL WORK ON THIS ARTICLE, YOU WILL BE BANNED.
Kelp is a male SeaWing and a character in the fanfiction Riches to Rags. He is a warrior. 
Description
Kelp has charteuse green scales with lighter charteuse green underscales and wing membranes. Darker chartuese green swirls are on the underside of his wings, making the underside of his wings look vaguely like a kelp forest. He has aqua glow-in-the-dark scales and aqua eyes. 
Personality
Kelp isn't the most intelligent of dragons, and is a little ashamed because of it. He's serious and sharp-tongued, so you only hear him laugh on very rare occassions. Many people describe him as a great big grouch. Even so, you'd be surpised he has a huge, loving heart and is a bit over-protective of Emeralsada. Kelp is a good fighter and loves to fight, but he normally tries to avoid killing dragons because of his somewhat gentle nature. He'll kill if necessary, though. 
Ad blocker interference detected!
Wikia is a free-to-use site that makes money from advertising. We have a modified experience for viewers using ad blockers

Wikia is not accessible if you've made further modifications. Remove the custom ad blocker rule(s) and the page will load as expected.