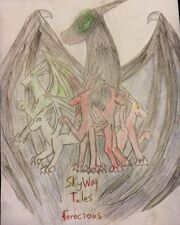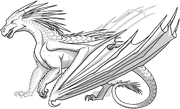 FOR THOSE WHO WANT TO STAY ON THIS WIKI: FROSTBITE IS MY OC. I DID NOT KNOW THAT THERE WERE OTHER FROSTBITES THAT OTHER PEOPLE HAVE CREATED UNTIL I HAVE ALREADY CREATED THIS CHARACTER, SO PLEASE DO NOT BAN ME 'CAUSE I'M A GOOD KID.
-Quarx
Made for my best friend, Zilla0128.
History
A socially awkward, yet a very caring IceWing, Frostbite has once been predicted by his parents to be a great warrior, who'll freeze his enemies to death. It wasn't until he was four that his parents discovered his defectiveness; he didn't have his Freezing Death Breath. When they found this out, they decided to send him off to the military a year early, at the age of only six. At the age of seven, he joined the company, The Snowflakes.
Appearance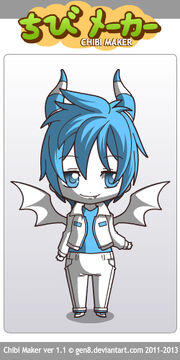 Pure white scales and soft blue eyes, Frostbite appears as any typical IceWing.
Appearances (Fan-fictions)
Frostbite first appears in SkyWing Tales: Ferocious: Book III: The Dream.
A Note from Quarx
I love feedback of how I am doing. The reason why is because I love to be able to improve upon my skills of being a  writer. So, if you see anything that I can improve upon, please tell me below in the comment section. Thank you.
Ad blocker interference detected!
Wikia is a free-to-use site that makes money from advertising. We have a modified experience for viewers using ad blockers

Wikia is not accessible if you've made further modifications. Remove the custom ad blocker rule(s) and the page will load as expected.