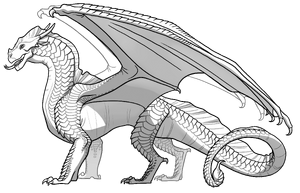 DIAMONDBACK IS
ZODIA
'S OC, ADOPTED FROM
SNOW
. PLEASE DO NOT USE OR EDIT HER WITHOUT HIS PERMISSION OR KNOWLEDGE.
Description
Diamondback is a pale gold SandWing with white coloured wings. She is about the average height for a SandWing. She's a fierce fighter, and quite willing to take on anyone who stands in the way of her reaching her goals. She has a few scars from her time fighting in the war, but nothing too large. Her eyes are such a deep black some dragons question wonder is there is any colour in them at all. She has all the abilities of a regular SandWing.
Personality
She has a personality to match her fighting skills, though whether that is good or bad for others to decide. Diamondback is brave, fierce, strong, and not afraid of a challenge. Despite this, she can be very loyal to her friends, albeit impatient and annoying sometimes, though showing this side of her is rare. She isn't  very patient, and has a short temper, and when pushed to her limit is very dangerous. She will not listen to whatever anyone says, and can even attack without care of who it is on the other end of her claws. though she can be very strong-headed and adamant, she is a good ally to have.
Despite her less... reasonable qualities, she is very loving and protective over her child, and will not tolerate anyone or anything that stand even a chance at harming Savannah . She is strict with her, but only means the best.
History
Though at first she loved the war and the thrill of battle, Diamondback soon changed her mind after she lost her mate and only son (Or child, at the time) in a hard battle. She's grown harder since then, but still misses both of them. 
Ad blocker interference detected!
Wikia is a free-to-use site that makes money from advertising. We have a modified experience for viewers using ad blockers

Wikia is not accessible if you've made further modifications. Remove the custom ad blocker rule(s) and the page will load as expected.