CRYSTAL IS MY OC. IF YOU COPY HER WITHOUT PERMISSION, I WILL HAVE THE AUTHORITIES BAN YOU!!!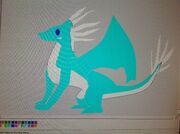 Crystal is a female IceWing with a warm personality and rare ice-powered claws, which can cut through even reinforced animus stone. She is based off of a real friend, and is very nice and powerful. In the fanfiction Untold Legends, she is Queen Crystal of the IceWings.
She is best friends with Storm the SkyWing and starts to fade in the fanfic Firestorm when her future counterpart, called Crystal-from-the-future, is killed by Queen Scarlet, who proves to be alive from Glory's venom. In revenge, she helps Ruby, one of Queen Scarlet's daughters, find a way to kill her mother and become queen.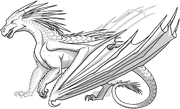 Ad blocker interference detected!
Wikia is a free-to-use site that makes money from advertising. We have a modified experience for viewers using ad blockers

Wikia is not accessible if you've made further modifications. Remove the custom ad blocker rule(s) and the page will load as expected.