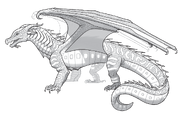 NOTE: CONCHSHELL IS MY ORIGINAL CHARACTER. IF I CATCH ANYONE PLAGIARIZING ANY OF MY ORIGINAL WORK ON THIS ARTICLE, I WILL TELL THE ADMINS AND YOU WILL BE BANNED.

Conchshell is a female SeaWing and an antagonist in the fanfiction Riches to Rags. She is one of .oOEclipseOo.'s OCs. 
Description
Conchshell is a pretty, muscular light blue SeaWing with whitish-blue underscales. Her wing membranes are an unusual sandy color and her glow-in-the-dark scales are white. She has piercing yellow-green eyes and wears lots of gold pearls. 
Personality
Conchshell is vain. She can be kind, but only with extremely close friends. She is arrogant and snobby, caring mostly only about herself and riches. She uses her looks to charm male SeaWings into giving her stuff. She is very rude and not afraid to speak her mind. She isn't very loyal and would leave her friends (which she only has because of her looks, social status, and money) in seconds if lots of riches were involved. Conchshell thinks that if a dragon doesn't have as many riches as she does, they are inferior to her, and considers lower class SeaWings worthless. She is extremely cold-hearted, not afraid to kill, and sometimes will even hurt or kill dragons she considers inferior to her only for her amusement. 
Ad blocker interference detected!
Wikia is a free-to-use site that makes money from advertising. We have a modified experience for viewers using ad blockers

Wikia is not accessible if you've made further modifications. Remove the custom ad blocker rule(s) and the page will load as expected.