Chessplayer is a male NightWing by Lord Clathor. Credit to Matau99 for the name. Thanks!
Description
Chessplayer's primary scales are a light purple, and his secondary scales are a dark purple fading into black. His eyes are a dark black color. He always has a bag of his chess game with him.
Personality
Chessplayer always views life as a chess game, each step a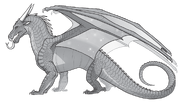 s a piece being moved. He loved the game of chess and after years of playing, he has turned to a brilliant tactician and strategist. He plans for war, and he often uses his chess game as a planner. Chessplayer often asks dragons to play a game of chess with him before they ask something of him.
Abilities
As said before, he is a brilliant tactician. He has a good at mind reading and has below average fighting skills. He is skilled at foretelling the future, though only from between a few seconds to hours. He often uses mind reading and foretelling the future in chess and on the battlefield.
He is 12 in dragon years, and 24 in human.
Trivia
His brother is Chalkmaker. His sister is Madnessgazer.
Ad blocker interference detected!
Wikia is a free-to-use site that makes money from advertising. We have a modified experience for viewers using ad blockers

Wikia is not accessible if you've made further modifications. Remove the custom ad blocker rule(s) and the page will load as expected.