Incinorator's
OC. Please do not use without my permission.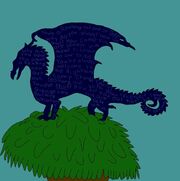 Personality
Canopy is a smart and cunning RainWing. She has a weird obsession with evil, which makes her a great minion for an evil person. She loves all NightWings for no apparent reason. She is under the command of Dusk the NightWing, who she has a secret crush on.
Description
Canopy is always a dark blue with white dots. She has a light blue underbelly. For an unknown reason, she has lost the ability to change the color of her scales (except for camouflage) , which has caused all other Dragons (except for NightWings) to think her weird.
Powers
Canopy has no special powers… except for the extra sharp talons.
Relationships and Quotes
Canopy has a secret crush on Dusk.
"Actually, they never change…"
"Why does EVERYONE think I'm WEIRD?"
"Hello, Dusk. I was hoping you would show up."
Related Pages
Canopy the RainWing
Freeze the IceWing