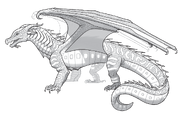 NOTE: BELUGA IS MY ORIGINAL CHARACTER. IF I CATCH ANYONE PLAGIARIZING ANY OF MY ORIGINAL WORK ON THIS ARTICLE, YOU WILL BE BANNED.
Beluga is a female SeaWing dragonet and a character in the fanfiction Riches to Rags. She is one of .oOEclipseOo.'s OCs.
Description
Since Beluga's family is very rich, she is given a ton of jewelry and usually is forced to wear most of it all the time by her family. She is very tiny, even for her age, and underneath all jewelry she wears, she has ice blue scales with whitish-blue underscales. Her glow-in-the-dark scales are white and she has wide, deep royal blue eyes, which stand out sharply next to her near-white scales. 
Section heading
Write the second section of your page here.
Ad blocker interference detected!
Wikia is a free-to-use site that makes money from advertising. We have a modified experience for viewers using ad blockers

Wikia is not accessible if you've made further modifications. Remove the custom ad blocker rule(s) and the page will load as expected.