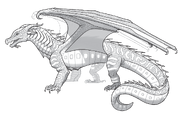 Barracuda is a male SeaWing and one of Lulerb03's OCs, so no copying and please ask for my permission if you want to use him in any manner.
Appearance
Like all the other SeaWings, he possesses glow up stripes. He is a normal SeaWing and is not descended from the royal family. He sports a teal color for his scales and has light brown eyes.
Personality 
Barracuda can get out of almost any trouble. He has a sense in his brain that tells him if there's something off about some dragon. He is wise, a great crafter, and will show mercy most of the time...
Life
Barracuda was born in the normal hatchery. He was lucky to survive, seeing how dragons were allowed to eat in there. Surprisingly, someone was eating right at the time he hatched so he didn't have to worry. Barracuda was an okay fighter but not as good as his the other dragonets his age. Yet there was something he was far better at, and that was crafting armor. The war hadn't started yet, but when it did, he didn't really like the SeaWings' new ally Blister. Then he heard of a new type of SeaWing, the Rebel SeaWings. After that he fled, taking some supplies-of course-with him and asked if he could be a crafter for different item, so Queen Lily let him join. 
Ad blocker interference detected!
Wikia is a free-to-use site that makes money from advertising. We have a modified experience for viewers using ad blockers

Wikia is not accessible if you've made further modifications. Remove the custom ad blocker rule(s) and the page will load as expected.