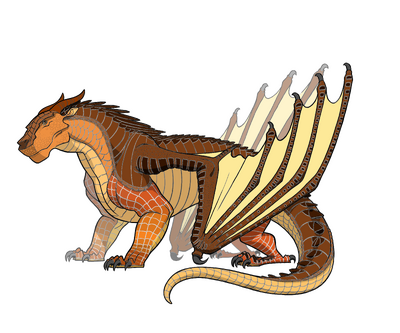 Aveilen is a very stubborn female MudWing who is very deviant to the MudWing norms in terms of activities.
General Info
Her primary scales are darker than usual, while her secondary scales are lighter than usual.
Her eyes are bright green, instead of the usual brown.
She has a large build for a female MudWing.
History
When Aveilen was first hatched, she was born first of the clutch and was intended to be her sibs' BigWing. However, Aveilen failed to help them hatch, and as a result, they all died.
Being born as an unsib has made life very difficult for her in the organized world of the MudWings, but this has taught her to be independent and made her very strong in that aspect.
Though it is looked down upon, and many others would rather have her contribute to the war effort, Aveilen likes to spend most of her free time goofing off, exploring, sleeping, eating, and whatever else she feels like doing. Though this is usually outside of the "boring MudWing world."
Despite being unsibbed, she has still been given formal training during the early years of her life, giving her advanced fighting and tactical skills.
Personality
Aveilen is very stubborn, set in her ways, and not easily dissuaded.
She likes to fight and spar.
She acts very tough, no matter what it is that she is up against, showing no weakness.
Does not easily reveal her emotions or her history.
Does not like taking orders.
Can be very sarcastic, insulting, and unfriendly, but her true nature is typically benevolent, as long as you do not get on her bad side.
Aveilen has a very large mouth with an.... outspoken personality. She loves to name call, threaten, and use harsh language.
Relationships
Aiden, Fury , ShadowEye, Frost Fire -  Aveilen likes to torment this group and keeps an eye open for them. She stops by every now and again just to poke fun and see whats up.
Valora- Closest thing to a friend that Aveilen has. Valora is her friend because the messenger accepts Aveilen for who she is, despite her faults and her bossy attitude. Valora knows Aveilen better than even her own father does. Even though Aveilen does not tell Valora everything, Aveilen shares things with Valora because she feels that Valora will not judge her.
Catalyst- Aveilen trusts Catalyst more than she wants too, and she strongly dislikes him for that. From time to time she may let her emotions go around him and say things that she wouldn't otherwise say to others, and then hates him for that afterwards, purposefully trying to find faults in him.
Gallery