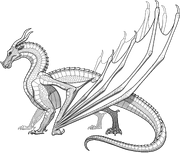 Amberheart
Amberheart is a deceased SkyWing who was the mother of Glide.
Personality
Amber was caring and loved everyone. She made sure everydragon was joyous. She liked her friend, who was the father of Seacave.
Appearance
Amber had bright orange scales on her main body, legs, tail, and wings. It melted into a light red color, which looked like tie-dye.